5%+ Dividend Yield Portfolio: Profiting From A Return To Normal (November 2018 Review)
ABBVBACBPBXMTDVYADWXEECNSEDIVEWAEWMFFGDFLQHGDXGISGSGSKHDLVHYNDHYZDIBBIBMIDHDIEIHIQDEIRMKMIKREFNRZOHIQQQC-OLDQYLDRDIVRDS.ARDS.BRIGSBRASCHDSHSKTSPHDSPYDTTEVAVTR
November 2018 volatility was great for my portfolio, as I gained +2.4% versus only +1.2% for the S&P 500.
It was also another solid month of dividends, with 2018 pacing a 10% improvement over 2017.
My dividend yield of 5.1% firmly crushed the pathetic 1.8% of the S&P 500.
Taking advantage of volatility, I was both a buyer and seller this month.
Volatility has returned to the markets. By this I dont mean the big dig from the recent price highs… I am referring to the normal week-to-week and month-to-month gyrations that have are closer to the historical trends than the quiet uptrend that has mostly defined the past 10 months. However, this has been a stock pickers market, where the market gives and takes in strong moves in either direction. Momentum stocks (especially large-cap tech) have broken down, as has the crude oil market (and related energy stocks); however, REITs and value stocks have outperformed. Sometimes the results feel predictable, but sometimes the moves seem to make no sense.
Market momentum changes like we have seen over the last couple months seem to bring out the market fortune tellers even more than normal. You will see much nonsense from so-called market experts telling you how to adjust to this new normal. My favorite of these was the tongue-in-cheek McRib Effect that was discovered by Nick Maggiulli. Is worth your time to read hisarticle, but for those who just want the punchline…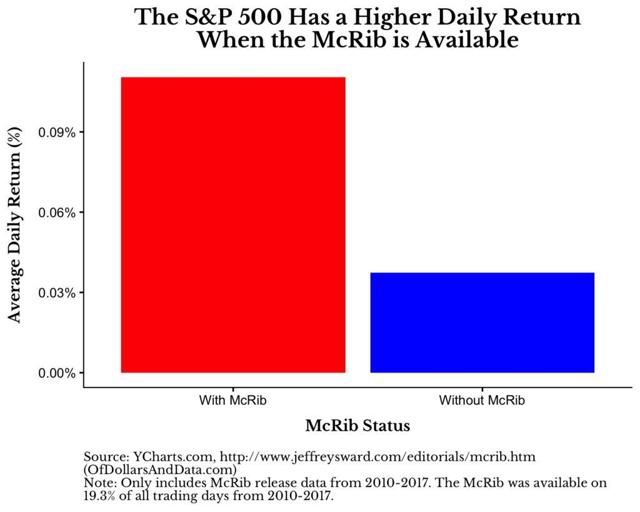 Correlation does not equal causation.- Nick Maggiulli (channeling many before him)
My free advice is to ignore anything new that you hear and stick to the basics that have worked for decades. Near as I can tell, the real situation is that there is nothing unusual going on. The U.S. economy (as measured by GDP) continues to grow at a very sustainable 2-3%; inflation is on target; interest rates are apparently close to where the Fed wants them to be; and most of everything else (divided government, tariffs, millennial preferences, OPEC, etc.) is noise (or very company-specific things). Always remember that recessions drive true stock market crashes, not valuation ratios or politics (or whats trendy).
As for the markets recent price action (as I see it), after a long appreciation streak (which extended valuation multiples), we then saw a run-of-the-mill correction (very unlikely to be the preface to a recession). If anything, this correction (along with continued strong earnings growth) has brought P/E multiples down to more reasonable levels. While the economic positives are not quite as great for most foreign markets, the price performance has been even worse, and many cheap value stocks abound. In short, now is a great time to be a buyer of equities.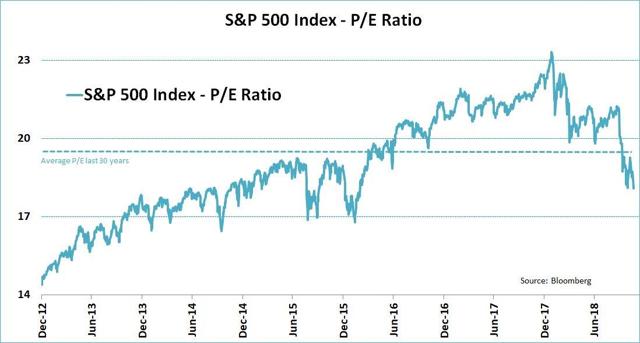 November 2018 was pretty terrific for a closet stock-picker like me, but my portfolio appreciated +2.4%, versus only +1.2% for the S&P 500. This brings my 2018 total to +1.6%, versus +4.2% for the S&P 500 (but I have been closing that gap). However, my 5.1% dividend yield on invested capital crushed the 1.8% yield of the broader index, so Im going to declare myself leading the markets at this point in the year.
November 2018 rewarded me with realized dividends of $1,017 (versus $911 in 2017) – a robust 12% increase. Furthermore, for the 12 months ending November 2018, my portfolio delivered $14,254 in cash to me (an increase of 10.0% from 2017). My realized yield for the past 12 months was 5.0% for my full portfolio, including cash reserves. My 2018 goal was to increase dividends by ~5% to $13,500 for the year, so I feel good that I am on track to beat this goal. Fear and greed are hard to balance, but I am happy with where I am overall. My yield-focused strategy still makes the most sense to me, as paper gains may come and go, but cash is forever!!
Since I write for Seeking Alpha primarily to improve my own investment portfolio, I think it is important that you know my objectives. Please consider this context when you look at any advice I give and form your own opinions based on your needs and desires.
GOAL: Attractive, risk-adjusted, absolute returns (5-15% annually) over a long-term time frame, while minimizing capital loss and extreme drawdowns.
STRATEGY: Enhanced dividend growth, or DGI, strategy that focuses on a core of diversified high-yielding holdings (ETFs and individual companies – my general screening criteria: growing companies (YoY EPS growth 0%) with attractive valuations (PEG 1.5 and P/E 20) and strong and safe dividends (yield 4%, payout 90%, and market cap $500 million)… no tobacco stocks or micro caps), supplemented with return-enhancing tools like hedges (derivatives and shorts), commodity exposure, etc., as well as some crazy picks.
BALANCE: Blend of ETFs (domestic and international) and individual companies (where there is a compelling reason to own). Seek to not overweight any one sector unless there is a compelling reason to do so (although the nature of these investments leads me to be overweight in traditional dividend-paying sectors like financials, REITs, and energy).
Note: I violate these guidelines constantly, so please call me out on it!
Portfolio Composition as of November 30, 2018
First Trust Dow Jones Global Select Dividend Index ETF (FGD)
Oppenheimer Ultra Dividend Revenue ETF (RDIV)
SPDR S&P Emerging Markets Dividend ETF (EDIV)
PowerShares S&P 500 High Div Low Volatility ETF (SPHD)
Invesco S&P International Developed High Dividend Low Volatility ETF (IDHD)
iShares Evolved U.S. Innovative Healthcare ETF (IEIH)
UBS ETRACS 2x US High Div, Low Vol ETN (HDLV)
FlexShares International Quality Dividend Defensive (IQDE)
Franklin LibertyQ International Equity Hedged ETF (FLQH)
Global X NASDAQ China Technology ETF (QQQC-OLD)
Bank of America Corporation (BAC) – Pref L (BML+L)
WisdomTree BofA Merrill Lynch High Yield Bond Zero Duration ETF (HYZD)
WisdomTree BofA Merrill Lynch High Yield Bond Negative Duration ETF (HYND)
SHARE BUY- Horizons NASDAQ 100 Covered Call ETF (QYLD): Bought 200 shares of this Covered Call ETF at $23.25 on November 12.
Reasoning: A volatility driven purchase on the NASDAQ market that had gotten crushed with the tech selloff (the huge 10.7% dividend rate certainly enticed me as well).
SHARE BUY- BP plc (BP): Bought 100 shares of this oil major at $41.05 on November 12.
Reasoning: Crude is getting killed right now, so I dipped my toe back into buying more energy stocks with the solid 6% yield of this well-known value stock.
SHARE SALE- ProShares Short Real Estate (REK): Sold all my 200 shares of this short real estate ETF at $16.05 on November 1.
Reasoning: I think this is the pullback that I had been waiting for to get rid of some of the hedge positions that I have (unprofitably) held. Shorting is hard, and I dont recommend you do it!
SHARE SALE- Omega Healthcare Investors (OHI): Sold half of my shares (200) of this healthcare REIT at $35.35 on November 12.
Reasoning: Maybe I pulled the trigger a little too early (since the stock price has continued to run), but I locked in some killer gains, as the stock was/is up over 35% this year.
Capturing volatility is probably one of the few decent ways to seek alpha (buy low and sell high), so I hope you are leaning into the swings and are not paralyzed with fear. To observers with a long view of history, the market is actually acting quite normally (maybe even a bit on the quiet side). Dont get suckered by any new insights or get-rich schemes – the market is as it has been (where slow and steady is your best bet to win the wealth race). And as long as earnings are strong, Im a buyer (and occasional trader) of this market.
Disclosure:I am/we are long ALL STOCKS AS MENTIONED.I wrote this article myself, and it expresses my own opinions. I am not receiving compensation for it (other than from Seeking Alpha). I have no business relationship with any company whose stock is mentioned in this article.
Additional disclosure:The author is an amateur who has a history of getting calls both right and wrong with zero predictive power. Trade at your own risk and never rely solely on this authors opinion. Also, as I have no knowledge of your circumstances, goals, and/or portfolio concentration, readers are expected to complete their own due diligence before purchasing any stocks mentioned or recommended.