0?(!keyword=+encodeURIComponent($(keyword).value)):)); dexOf(/en/search)
=0)setTimeout(function()document.location.reload(true),10);return false; id=main_search_form method=post
You liked the script? Try it in theMetaTrader 5terminal
This is a modified version of the popular news indicatorFFCalwhich was published initially byDerkWehlerto ForexFactory forum. Actually, Ive modified the code to suit my needs but I found that it may be useful for others as well so I decided to share it. I have rewritten the indicator so you can consider it almost build from scratch of the original. Yet, it shares the same techniques and main style.
The indicator places a panel on your chart that shows 5 economic events listed on the Forex Factory Calendar. You can filter out/in the events of High, Medium, or Low impact, Speaks, Holidays or by specific keyword filter. Please see all modifications listedbelow.
Also, the indicator can be called within an EA using theiCustom()function by accessing 2 buffers:
*Please note that the indicator does not have (at this stage)back-testing capabilities.
Added:property strictfor compatibility with MetaTrader 4 Build 600+ and better code quality.
Added: Option to show events related to active chart only (
Added: Keyword filter. Find or Ignore a specific one word, i.e. NFP, will filter out all events with/without only that word. (
Added: Option to show currency strength / bar time left / spread value.
Added: Option to control the time for display of past events (
Added: Option to set panel location in 4 chart corners.
Added: Tool-tip on mouse hover that shows event title, impact and event time left.
Added: Panel title. You can use it as a reminder note 🙂
Modified: Show event in Date/Time format instead of minutes left (you can show minutes left through Tool-tip)
Modified: Vertical lines for the upcoming events. (You
need to modify the time offset input depending on your broker time).
Modified: Buffers that holds the upcoming event minute and impact (see examples above)
Improved: Replaced DownLoadWebPageToFile() function with native WindowsURLDownloadToFileW()function.
Improved: Placed (download/read XML file) and related codes into a functions so we can call them when needed.
Improved: Replaced GlobalVariables that used to update XML file withFILE_MODIFY_DATEOnTimer()set by AllowUpdates, UpdateHour inputs.
Improved: Time GMT offset, now the events will show in your local time automatically.
Improved: Justify the panel/text when set to right/left.
Improved: Alert function, Now it will send beside the Popup Alert: sound alert,Push notificationon your phone andEmails. (
Improved: Code quality, now the indicator is lighter and faster than ever.
Fixed: Various bug fixes, some unnecessary/unused codes or variables removed, placed some variables inside their related functions.
* In order to use this indicator, you need to turn on DLL Imports in your MetaTrader 4 platform options.
* Please be aware that the code may have some bugs or other flaws, so if you see any bugs or suggestions, or even better code practice, please let me know.
* According to Forex Factory website, all event times areapproximateandsubjectto change.
I tried to load the latest attached FFC.mq4 form your message and still have NO MORE EVENTS message. I opened the file in a text editor and I see the new URL there. What could be wrong?
Yes, I placed new URL, and it works for me (it did not work with old URL) –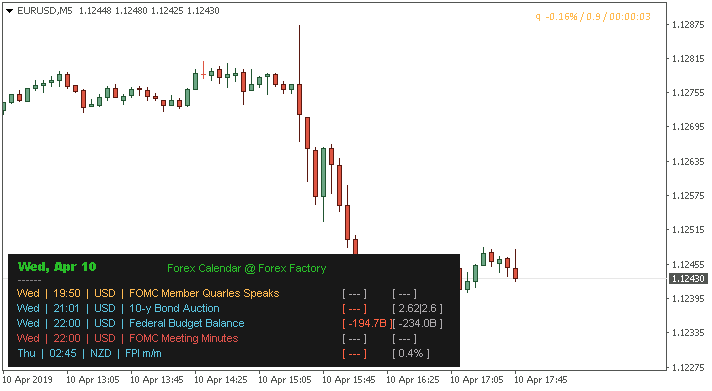 I attached my version once again here (mql4 and ex4).
drawn by this indicator does not automatically disappear after the time specified under the settings. The lines are updated only when I change the timeframe to another. Can anyone fix this problem?
Hi there, i was using this mq4 and add on the tms service send the notification to my Channel
is that posibble to reamend the coding to trigger all the event on the same time?

only the 1st data was triggered instead of both
Please assist how to get both data triggered in Popup Alert,Push Notificationand Email as well
Hi – first off thank you to the authors for this great indicator. Ive been using the iCustom function inside my EA to auto-enable and disable trading on high impact news event for the past few months. Starting this week Ive noticed that the events shown on the chart are not auto-refreshing to the current day. The continue to display the news event for the last time the EA was placed on the chart. So, for example, If I placed the EA on the charton Sunday, June 2nd then the chart continues to display the events from Sunday, June 2nd even though today is Tuesday, June 4th. I have to replace the EA on the chart for the events to update. This had been working fine for the past few months.
2019.07.19 12:45:29.907FFC EURUSD,M5: cannotset timer(14400)

Continuously records tick data in format DateTime, Bid, Ask, Volume even after restart.
Calculates profit (loss) of the current orders on the symbol.
PricePosition indicator provides the position of price in the point of angle when the price rises above (BUY) or falls below the angle section line (SELL).