Get the latest news, Price Analysis and insights
By pressing the Subscribe button you agree with ourPrivacy Policy
By pressing the Subscribe button you agree with ourPrivacy Policy
Cryptocurrency Market Turns into Bloodbath as Bitcoin Price Slips Below $10,000
Bitcoin has increased its market share despite nose-diving below $10,000
After steadily hovering above $10,000,Bitcoinhas just plunged below this pivotal mark. According to CoinMarketCap data, the top currency is down 4 percent over the last 24 hours, but its market dominance has actually increased to 69.3 percent.
Forbes: Five Reasons Bitcoin Price Went Below $10,000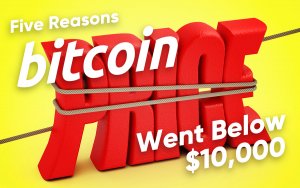 As expected, altcoins have been hit even harder.EOShas experienced a 9 percent drop, which is the biggest daily loss among the top 10 coins.
Overall, there are very few coins within the CMC top 100 that stayed above the fray, which means that an alt seasons is probablynot coming anytime soon.
Alex Dovbnya (aka AlexMorris) is a cryptocurrency expert, trader and journalist with an extensive experience of covering everything related to the burgeoning industry from price analysis to Blockchain disruption. Alex authored more than 1,000 stories for U.Today, CryptoComes and other fintech media outlets. Hes particularly interested in regulatory trends around the globe that are shaping the future of digital assets.
5 Popular Ethereum Cloud Mining Sites in 2019
10 Popular Cloud Mining Sites in 2019 – Updated
By pressing the Subscribe button you agree with ourPrivacy Policy
Disclaimer: Any financial and market information given on news.u.today is written for informational purpose only. Conduct your own research by contacting financial experts before making any investment decisions.
This site uses cookies for different purposes. Please set your preferences in Cookie Settings and visit our Cookie policy for more information on how and why cookies are used on this site.Click here for cookie policy