If you want to become a successful currency trader, you must first learn the language of the Forex market, as well as the basics of Forex trading. What is the Forex market? Why is it a great market to trade? What is a currency pair and how does one read it? Which tools can you use to make better trading decisions?
Forex trading can be an exciting and lucrative activity, but it can also be tough, especially for beginners. Newcomers underestimate the important of financial education, tend to have unrealistic expectations, and struggle to control their emotions, pushing them to act irrationally and impair their overall performance.
The Foreign Exchange market, also called the Forex or the FX market, is an over-the-counter market where the worlds money is exchanged. Many players trade the Forex market, such as institutional investors, central banks, multinationals, and commercial banks, among others.
As a retail trader, you can access this market with aForex and CFD brokerand make money by buying or selling currency pairs. Currencies are always quoted in pairs for instance, in the EUR/USD currency pair, the EUR is the base currency, while the USD is the quoted currency. The quoted currency is always the equivalent of one base currency. If the EUR/USD exchange rate is worth 1.1222, then you will get $1.1222 for 1.
In our example, we can see that the EUR/USD has 4 decimals. This is typical of most currency pairs, except those that involve the JPY, which only display 2 decimals. When a currency pair moves up or down, the change is measured in Pips, which is a one-digit movement in the last decimal of a currency pair. When the EUR/USD moves from $1.1222 to $1.1223, the EUR/USD has increased by one Pip.
When you look at a currency pair quotation on your brokers platform, you will see two prices: a selling price on the left (bid price), and a buying price on the right (ask price). The difference between both prices is called the spread. This spread is pocketed by the broker, and is one of the main ways in which they make money.
TheBank for International Settlementsdeclared in its last triennial survey that the daily average trading volume of the Forex market reached more than 5 trillion US Dollars. It also shows that, due to this huge volume, the Forex market is the most liquid market in the world. Liquidity refers to how easy it is for traders to open and close their trading positions without affecting the price of the underlying asset. Liquidity is a good indication of how active a market is.
The concept of liquidity also works hand-in-hand with volatility, which measures the way in which market prices change. Volatility is something to be welcomed, as it is volatility that gives traders the opportunity to make profits, especially for short-term traders like scalpers and day traders.
As a Forex trader, there are different trading methods you can use, with the main styles being:
Day trading and scalping are two of the most aggressive and active trading styles. In both cases, all trading positions will be closed before the end of the trading session. Where these 2 styles differ is in trade frequency scalping is about taking advantage of very small price changes, often buying and selling within a few seconds or minutes, while day traders may hold a position for up to several hours. While day trading and scalping are very short-term trading methods, swing trading is longer-term, with positions held up to several weeks.
Depending on thetrading style you choose, you will use different types of orders. For instance, market orders will be used by scalpers more so than by swing traders, as these orders offer the best available price for you to enter or exit the market instantly.
For day trading or swing trading, limit entry orders will be more useful, are they allow traders to enter the market at a pre-determined price (buy limit orders are for when you want to open a long position, and sell limit if you want to open a short position).
As Forex trading is often offered with leverage, potential profits are magnified, along with potential losses. For this reason, its important to use stop-loss orders to limit your losses if the market goes against you. One of the best ways to mitigate your risk is to trade with the trend.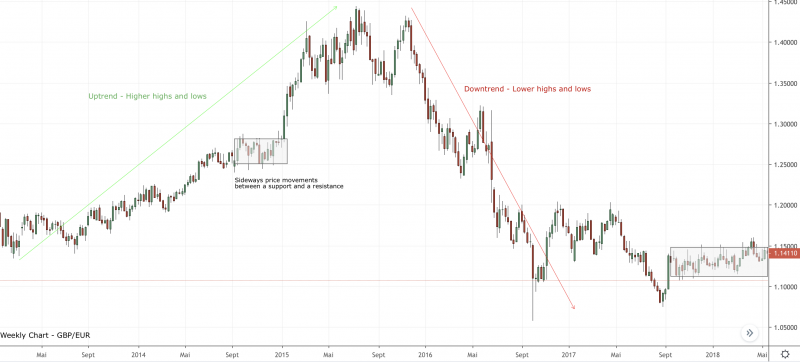 The trend is at the heart of one of the most popular techniques for trading the Forex markets technical analysis. This strategy follows 3 assumptions: prices discount everything, history tends to repeat itself, and prices move in trends.
Therefore, when a given currency pair exchange rate moves, the market trends. While most traders think that prices can only go up or down, Charles Dows theory asserts that there are in fact 3 trends in the market: up, down and sideways.
According to Dow, you need to analysis highs and lows to be able to determine a trend. An uptrend is formed by higher highs and higher lows, while a downward trend is formed by lower highs and lower lowers. When neither the bulls (buying investors) nor the bears (selling investors) have control of the market, prices evolve within a lateral consolidation, also called a range.
Dows theory shows that each trend is formed by 3 other trends: a primary, a secondary and a minor trend. A primary trend usually lasts more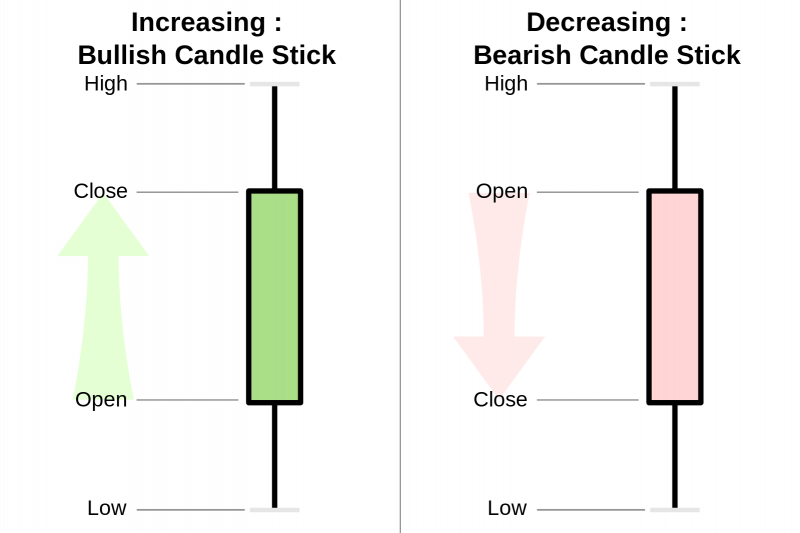 than a year and describes a bullish or a bearish market. Within the primary trend, the secondary trend usually goes against the main trend it represents a corrective movement, or a pullback, lasting between 3 weeks and 3 months. Finally, a minor trend represents the noise of a market within the secondary trend, usually lasting less than 3 weeks.
How can candlestick analysis can help you fine-tune your entry and exit timing?
Candlestick analysis is a Japanese type of chart analysis that goes back to the 18th century. It is still one of the most popular ways to read charts today. Candlesticks are used to make better trading decisions by analyzing prices through the body and wicks of candles to decide when and where to enter or exit the markets.
A bullish candle usually has a white or green body, while a bearish candle will usually be black or red. Candles describe market participant psychology through their wicks (also called shadows), which show the volatility and the intensity of the movement through the highest and lowest level reached. The longer a candle, the more intense the buying/selling pressure. Conversely, the shorter the candlestick, the more indecisive the market.
Candlestick analysis is quite an effective way to analyze the markets, as it helps traders spot great trading opportunities through the visualization of continuation, indecision and reversal patterns in the charts.
The FX market is quite popular among newcomers, and has never been easier to access. If you use leverage and margin trading wisely, you can make a lot of money trading currencies. Learning the basics of Forex trading isnt overly complicated. Deciding what kind of trader you are, based on your personality, and building your trading strategy accordingly, however, is a different story.
The more you know about Forex and trading, the better you will trade. So, be patient, dedicated, and committed to keep learning about trading and improving your strategy. Eventually, you will develop the skills to be profitable in Forex trading over the long-term.
This article is brought to you by the courtesy ofTickmill.
Discover whats moving the markets. Sign up for a daily update delivered to your inbox
Gold Price Futures (GC) Technical Analysis Failure to Hold $1490.70 Could Lead to Near-Term Test of $1461.30
E-mini Dow Jones Industrial Average (YM) Futures Technical Analysis Direction Being Controlled by 26999 Pivot
Futures Edge Higher, Global Markets Mixed, Trade Uncertainty Reaches New Highs
European Equities: A Busy Economic Calendar and Geopolitics in Focus
GBP/USD Daily Forecast Sterling Continues to Hold Above Major Support
This Section / Page contains links to the 3rd party websites of our top partners from whom we may receive compensation.
This Section / Page contains links to the 3rd party websites of our top partners from whom we may receive compensation.
The content provided on the website includes general news and publications, our personal analysis and opinions, and contents provided by third parties, which are intended for educational and research purposes only. It does not constitute, and should not be read as, any recommendation or advice to take any action whatsoever, including to make any investment or buy any product. When making any financial decision, you should perform your own due diligence checks, apply your own discretion and consult your competent advisors. The content of the website is not personally directed to you, and we does not take into account your financial situation or needs.The information contained in this website is not necessarily provided in real-time nor is it necessarily accurate. Prices provided herein may be provided by market makers and not by exchanges.
Any trading or other financial decision you make shall be at your full responsibility, and you must not rely on any information provided through the website. FX Empire does not provide any warranty regarding any of the information contained in the website, and shall bear no responsibility for any trading losses you might incur as a result of using any information contained in the website.
The website may include advertisements and other promotional contents, and FX Empire may receive compensation from third parties in connection with the content. FX Empire does not endorse any third party or recommends using any third partys services, and does not assume responsibility for your use of any such third partys website or services.
FX Empire and its employees, officers, subsidiaries and associates, are not liable nor shall they be held liable for any loss or damage resulting from your use of the website or reliance on the information provided on this website.
This website includes information about cryptocurrencies, contracts for difference (CFDs) and other financial instruments, and about brokers, exchanges and other entities trading in such instruments. Both cryptocurrencies and CFDs are complex instruments and come with a high risk of losing money. You should carefully consider whether you understand how these instruments work and whether you can afford to take the high risk of losing your money.
FX Empire encourages you to perform your own research before making any investment decision, and to avoid investing in any financial instrument which you do not fully understand how it works and what are the risks involved.