Whats the Best Cryptocurrency to Invest in Today?
Profit Alerts:Cryptocurrency News and Profits
Whats the Best Cryptocurrency to Invest in Today?
ByDavid Zeiler,Associate Editor,Money Morning@DavidGZeilerJuly 28, 2017
Comment on This StoryClick here to cancel reply.
Or to contactMoney MorningCustomer Service,click here.
Your email address will not be published.Required fields are marked*
Save my name, email, and website in this browser for the next time I comment.
This site uses Akismet to reduce spam.Learn how your comment data is processed.
Editors Note, Dec. 5, 2017:Since we first published this story in July, the 12 cryptocurrencies listed below have enjoyed an average gain of 145%. Readers who acted on these recommendations when we first released them have doubled their money or better. Its not too late to profit from the cryptocurrency boom. You just need to know how to find the fastest cryptocurrency profits. Stay ahead of the money and make more with our free, real-time Cryptocurrency Profit Alerts sent to your inbox.Sign up now here.
Bitcoin, with its first-mover advantage and robust security, is thebest cryptocurrency to invest intoday.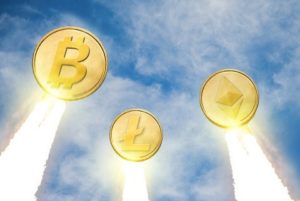 There are other cryptocurrencies worth putting some money into and well look at some of those in a moment.
But Bitcoin (BTC) has emerged as the blue chip of the bunch.
In a nutshell, heres why Bitcoin remains the best cryptocurrency to invest in despite all the competition:
Bitcoin is the granddaddy of digital currencies. It gained traction and notoriety before most other cryptocurrencies were created. The relatively large user base means Bitcoin benefits from a network effect. As more people use Bitcoin, its utility increases, which in turn attracts more new users.
The total value of all bitcoins is about $41 billion, more than twice that of second-placeEthereum. Its a reflection of the lofty Bitcoin price, which is about $2,500 now, although it hit $3,000 in June. A large market cap makes it easier for wealthier players to invest, adding to demand that helps push prices higher.
The code that runs the Bitcoin network specifies that only 21 million bitcoins will ever be created and that the rate of creation declines over time. Nearly 16.5 million bitcoins already have been mined. The tight supply, combined with steadily rising demand, is bound to drive prices up. Most other cryptocurrencies arent nearly so restrictive in regard to supply.
The more computing power the network has, the more difficult it is for a hacker to break into it. Lured by the Bitcoin reward currently 12.5 bitcoins for each block mined and rising transaction fees, Bitcoin miners have thrown increasing amounts of computing power into the network. That fact, and that it uses the SHA-256 cryptographic protocol designed by the National Security Agency,make Bitcoin virtually unbreakable.
And despite the big gains Bitcoin has enjoyed more than 180% just in 2017 its not too late to invest.The price of Bitcoin is likely to doubleby the end of the year. And over the next decade or so, the Bitcoin price could reach $100,000or even $1 million.
Trending:Should I Sell My Bitcoin Now That Its Above $10,000?
But what about Ethereum? The No. 2 cryptocurrency is also a very good bet
Having launched in 2015, Ethereum (ETH) is not only younger than Bitcoin, its younger than hundreds of other cryptocurrencies.
And yet it quickly surged to the No. 2 spot, giving you some idea of how much potential Ethereum has.
That potential is reflected in the huge gains in theEthereum price. Even with its recent pullback to just under $200, the price of Ethereum is up 2,300% this year alone.
Some mistakenly believe Ethereum is in a rivalry with Bitcoin, but their differences make them complimentary.
These are also the traits that make Ethereum the next-best cryptocurrency to invest in:
The Ethereum network can actually run programs on a global scale. These programs are called Dapps (distributed applications). It is this ability that has attracted a lot of attention from major investors as well as many of the worlds top tech and financial companies.
This consortium of more than 150 companies includes such powerhouses as JPMorgan Chase & Co. (NYSE:JPM) and Microsoft Corp. (Nasdaq:MSFT). The EEAs goal is to harness the Ethereum networks programmability to create enterprise-grade software. Only launched in February, the EEA has the potential to push the price of Ethereum much higher.
Most of the initial coin offerings that have launched over the past year,which can raise millions of dollars in a matter of minutes, have been based on Ethereum. With the ICO trend accelerating, this will be another powerful catalyst for the Ethereum price.
These are the primary reasons whyEthereum price predictionsfor the end of 2017 go as high as $500.
Free Book:The secrets in this book helped oneMoney Morningreader make a $185,253 profit in just eight days.Learn how to claim your copy here
Still, some investors want to venture beyond Bitcoin and Ethereum into the wider world of cryptocurrencies
Of the more than 1,000 cryptocurrencies that have been launched, all but 26 trade for under $5.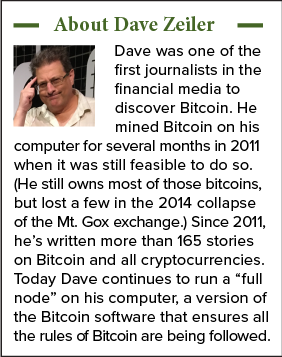 Its easy for investors to believe a cryptocurrency they pick up for $0.50 each will go to $100 or $1,000 and make them rich, even starting with modest sums of a few hundred dollars.
While not impossible, such an outcome is not likely. Apart from Bitcoin and Ethereum, only a handful of the hundreds of cryptocurrencies out there will enjoy substantial gains.
Think of cryptocurrencies today in terms of the dot-com boom of the late 1990s. Many of the overhyped Internet-based companies of the day went belly up in the dot-com bust of 2000-2001, taking billions of investor dollars with them.
But those with sound business concepts Inc. (Nasdaq:AMZN), eBay Inc. (Nasdaq:EBAY), and Priceline Group Inc. (Nasdaq:PCLN) went on to realize the promise of the dot-com hype.
The challenge is to figure out their latter-day equivalents among the cryptocurrencies.
For those willing and able to bear the risk, weve put together this list of the 10 best cryptocurrencies to invest in outside of Bitcoin and Ethereum
Join the conversation. Click here to jump to comments
Dave has been a journalist for more than 35 years, including 18 spent atThe Baltimore Sun. He has worked as a writer, editor, and page designer at different times in his career. Hes interviewed a number of well-known personalities – ranging from punk rock icon Joey Ramone to Apple Inc. co-founder Steve Wozniak.
Over the course of his journalistic career, Dave has covered many diverse subjects. Since arriving atMoney Morningin 2011, he has focused primarily on technology. Hes an expert on both Apple and cryptocurrencies. He started writing about Apple forThe Sunin the mid-1990s, and had an Apple blog onThe Suns web site from 2007-2009. Daves been writing about Bitcoin since 2011 – long before most people had even heard of it. He even mined it for a short time.
Dave has a BA in English and Mass Communications from Loyola University Maryland.
Awesome report exactly what people want to know right now As always David, youve hit the nail on the head with this report Great job!
Please could you give me information on how to purchase Crypto currencies? Can this only be done through a Broker account? Or can they be purchased directly with a credit card?
Cannot be bought through any brokerage account-yet. You must buy bitcoin first then buy other currencies with bitcoin. Buy bitcoin through private person or an exchange like Coinbase allows you to deposit fiat USD to buy bitcoin via CCard or bank account
I have used for 6 months on someones suggestion. It has worked for me and they dont charge huge service prices. They will be accepting bitcoin cash in January. they have the customer security in mine.
I would suggest to have a private wallet like Blockchain Wallet to keep things safe.
Onecoin was a scam. Which is why investors need to be cautious about which cryptocurrencies they buy.
-Dave Zeiler, Associate Editor, Money Morning.
Any word on Plexcoin?? Worth it or another Scam?
Canadian regulators shut down the Plexcoin websites. It appears to be a scam. I recommend that investors interested in putting money into cryptocurrencies stick with the top 20 or 30 names and avoid the rest. And approach ICOs with caution. Hopefully well get more clarity from the SEC on IPOs within the next year. Until then, they represent excessive risk.
hi, what are the 10 Best Cryptocurrencies Not Named Bitcoin or Ethereum? i dont find them on the page
As long as you can.. Treat it as a long term investment. It will go up and down and the long term is up.
I would say two to three years at minimum. Cryptocurrency is at a very early stage. IT may take longer, say five to seven years, for many of these cryptocurrencies to realize their potential.
Im interested in buying or investing in cryptocurrency. Need info and guidance to proceed.
How do I buy crypto currecies when in Africa,Uganda to be specific. I dont want to be left behind when the 10 year prediction comes to pass! Please advice.
Buying Bitcoin and other cryptocurrencies in many developing countries can be difficult because of the scarcity of places where local currency can be exchanged for cryptos. Apparently Paxful is one place to obtain Bitcoins in Uganda. Or if you have BitPesa, you can use that. Or you can use localBitcoins, but that means youll have to meet up with another Bitcoin user in person and buy from them. However, once you have obtained Bitcoin you should be able to transfer that to a cryptocurrency exchange like Poloniex or Bittrex. There youll have access to many cryptos.
Great article Dave, well organized! I wonder what do you think about Publica.io they are building a platform that aims to bring the publishing economy into the blockchain revolution.
Ive always thought that publishing is a great use case for blockchain technology. Time will tell if Publica has the answer. Im also following the Brave browser project, which incorporates the Basic Attention Token (BAT) in a similar way.
I put $9,000 into USIUSA-Int, theyve seemed to have stopped giving those of us who invested in them their money back, after running in to problems, supposedly because those of us in Europe and the USA were overselling the product. Can you give me any insight into this company, as they say they are going to honor their promises because they dont want anyone to be hurt by the problem they said they had, (and maybe their on the up and up), and I dont know if I should buy other bitcoin to make certain I dont loose out completely, or trust them.
Thanks for readingMoney Morning. I had not heard of USI USA before, but it appears to be a Ponzi scheme. Seethis article. Im afraid your money may have been stolen. Sorry I cant provide better news.
Comment on This StoryClick here to cancel reply.
Or to contactMoney MorningCustomer Service,click here.
Your email address will not be published.Required fields are marked*
Save my name, email, and website in this browser for the next time I comment.
This site uses Akismet to reduce spam.Learn how your comment data is processed.
Choose from the topics below to receive ourmoney-making recommendations in real time.
By submitting your email address you will receive a free subscription to
. You will also receive occasional special offers from Money Map Press and our affiliates. You can unsubscribe at anytime and we encourage you to read more about ourprivacy policy.
March 12, 2020• ByMoney Morning Staff ReportsLeave a Comment
March 12, 2020• ByMatt PiepenburgLeave a Comment
History Is Being Made: Eight Market Anxiety Signals Converging at Once
You can view our VQScore top-rated stocks now by entering your email below:
By submitting your email address you will receive a free subscription to VQScore and occasional special offers from Money Map Press and our affiliates. You can unsubscribe at anytime and we encourage you to read more about ourprivacy policy.
This Options Trading Strategy Got Readers 1,025% in 3 Weeks; Now Its Your Turn
This options trading strategy earned readers 1,025% as coronavirus fears ramped up in three weeks. But its still not time to mail it in. Staying alert, you could use a similar strategy for the same profit potential. Here it is…
3 Dividend Stocks to Buy During the Coronavirus Sell-Off
Today, Im highlighting three different dividend stocks to buy with the recent market pullback.
Money Morning gives you access to a team of ten market experts with more than 250 years of combined investing experience for free. Our experts who have appeared on FOXBusiness, CNBC, NPR, and BloombergTV deliver daily investing tips and stock picks, provide analysis with actions to take, and answer your biggest market questions. Our goal is to help our millions of e-newsletter subscribers and visitors become smarter, more confident investors.
© 2020 Money Morning All Rights Reserved. Protected by copyright of the United States and international treaties. Any reproduction, copying, or redistribution (electronic or otherwise, including the world wide web), of content from this webpage, in whole or in part, is strictly prohibited without the express written permission of Money Morning.
Address: 1125 N Charles Street Baltimore, MD, 21201 USA Phone: 888.384.8339
You may choose from these hot topics to start receiving our
Interested in other topics? You can add more alerts below.
By submitting your email address you will receive a free subscription to
. You will also receive occasional special offers from Money Map Press and our affiliates. You can unsubscribe at anytime and we encourage you to read more about ourprivacy policy.